CB-03-01
Product Description:
Product Name: 17alpha-propionate
Synonyms: 17alpha-propionate;21-Hydroxy-17-(1-oxopropoxy)pregn-4-ene-3,20-dione;CB-03-01;Cortexolone 17-alpha-propionate;17 alpha-propionate (CB-03-01);CB-03-1;17alpha-propio17-(1-oxopropoxy)pregn-4-ene-3,20-dione;CB-03-01 17alpha-propionate
CAS: 19608-29-8
MF: C24H34O5
MW: 402.52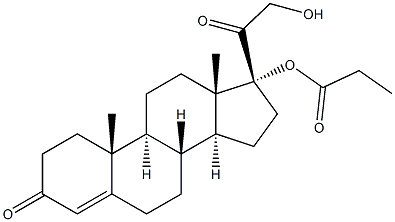 Cortexolone 17α-propionate (developmental code name CB-03-01) is a synthetic, steroidal antiandrogen that was developed for use as a topical medication but was never marketed. It is the C17α propionate ester of 11-deoxycortisol (cortexolone). C17α esters of 11-deoxycortisol were unexpectedly found to possess antiandrogen activity, and cortexolone 17α-propionate was selected for development based on its optimum drug profile. In rats, the drug has been found to possess strong local antiandrogen activity, but negligible systemic antiandrogen activity when administered via subcutaneous injection. In addition, cortexolone 17α-propionate is not progonadotropic, suggesting that it is peripherally selective. The topical potency of the drug was greater than that of progesterone, flutamide, and finasteride and was equivalent to that of cyproterone acetate.

A pilot clinical trial in 2011 of men treated with topical cortexolone 17α-propionate 1% cream for acne found that the drug was very well-tolerated and significantly reduced symptoms of acne.In addition, its effectiveness was significantly greater than that of the active comparator tretinoin 0.05% cream.